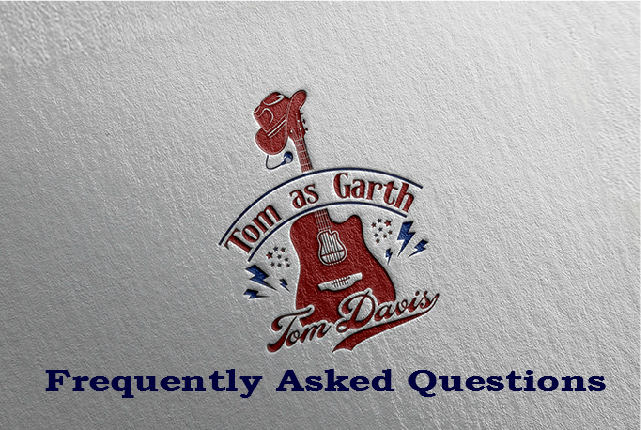 How long is your performance?
Up to 90 minutes as needed.
Do you travel out of FL for performances?
Of course. The act is based in FL with a satellite in PA- and is available from sea to shining sea!

How far ahead do we have to book Tom As Garth?
I am a full time performer, with a schedule that extends up to a year or two for select dates. Usually 3-4 months is recommended.

What if you're schedule indicates you aren't available for our dates?
Please contact me! If it's a date when I'm doing a typical beaches venue, we can probably work it in.

Can you provide your own sound and lighting?
Absolutely, if the venue is within driving distance and that distance can be covered within a reasonable time frame.
I have several sets of equipment for about any size area or venue. As per lighting, check out the supplied videos that show the powerful, synchronized light show throughout the performance. What is needed / desired can be discussed when providing you a quote. Some sort of seating is recommended, plus an A/C outlet must be nearby with enough amperage to carry the supplied systems. Two standard 20 amp circuits is plenty.
If using an already supplied system, only one XLR input is needed, as I supply the mix discreetly from the stage. If the house engineer will be mixing, then one XLR and two 1/4" inputs will be needed (vocals, guitar, audio tracks). If it will be an acoustic performance, only one of the 1/4" will be needed.

How large a stage or setup area is needed?
The stage needs to be a minimum of 12 feet across and 8 feet deep (front to back) with minimum 10 foot ceiling.
These are the dimensions needed to accomodate the lighting truss with room for the performance.
I can supply a suitable portable stage for an added fee
A stage is not necessarily needed as long as the performance surface / floor is flat.
The closer to the audience, the better, as the show is often face to face and highly interactive.
Three inputs (one XLR and two x 1/4") are needed for the vocal, guitar, and tracks format.
I prefer to bring my own mixer and mix from the stage area, in which case I would need only one XLR input.

How many members are in your band/act?
Tom As Garth is a powerful, one man concert style performance - with assistance from my lovely wife, Sheryl whenever she can accompany me. She is a great asset to the show and is a wonderful representative for me and for the event in which I'm involved. Her travel expenses are not added to any fees or quotes.

What is your fee / cost?
The fee is in line with the standard of a professional caliber tribute/specialty entertainer. If your event is multiple days, such as a county/state fair, a capable single act musical entertainer can save you thousands of dollars.



Phone (570) 573-2313 email tom@tomdavis.com
January 26, 2018 - Paradise Shores Clubhouse, St Pete FL
February 11, 2018 - American Legion Post 273, Madeira Beach FL
May 18, 2018 - Grand Valley Inn, Fallston PA
May 19, 2018 - Grand Valley Inn, Fallston PA
August 5, 2018 - East Side Pavilion, Pottsville PA
"Standing Outside The Fire" -American Legion Tribute Night


"That Summer" from the Bloomsburg Fair - Pennsylvania's largest "county fair" !


Compilation - Majestic Theater, Pottsville PA




Compilation - Pinellas Park Performing Arts Center - sold out!


American Legion 273 Tribute Night - With Tim Sells (Kenny Rogers) and Andrea Tyler (Adele)



Almost Garth is an enthusiastic and sincere portrayal of Garth Brooks' live performance
Tom utilizes correct gear including
Takamine GB7C guitar - wireless
CM311 headworn microphone - wireless
Stetson hat
Mo Betta and Cinch shirts

Available in three formats
An acoustic show
A tracks show (concert style tracks)
With a 5 piece band.